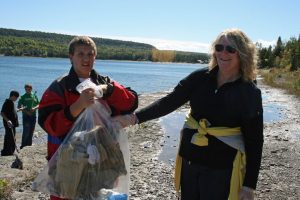 Go Green
Go Green is a club dedicated to a more sustainable environment for our communities. We are committed to reducing our school community's environmental footprint. The actions of this small group of individuals has a powerful impact on improving the school's eco-friendly habits of reducing, reusing, and recycling.
Feed the bin!
Waste recycling is being encouraged throughout the school – in our hallways, the cafeteria and in classrooms. Each classroom has a blue box dedicated to paper and cardboard products. There are dedicated bins for plastics and aluminum cans in the hallways and in the cafeteria.
The Go Green team works hard to educate everyone to feed the bin!
And now we compost! A new composting program will help reduce waste.
Awareness about conservation of energy is an ongoing focus. Our school grounds offer a natural, inviting area due to student efforts in re-greening and beautification projects.
Because the environment doesn't exist in isolation, neither does Go Green. This group of dedicated students is also part of the S.H.A.R.E. committee, which focuses on global issues of poverty and education.